Welcome to
The Nighthawk Diner Grünerløkka!
Established in the early year of 2010. The Nighthawk Diner aims to be a place for everyone to come and enjoy 'A little America in Oslo'. Serving traditional diner food and offering our all-day breakfast menu.
A place to gather, a place to meet and a place to enjoy. Bottomless coffee, fresh juices combined with hearty American Diner meals. Our chef team armed with their two gas-fuelled flat-tops and grill, aim to offer you true American home-style cooking on the fly.
So come and join us at The Nighthawk Diner or if you are already here at our property, enjoy your meal!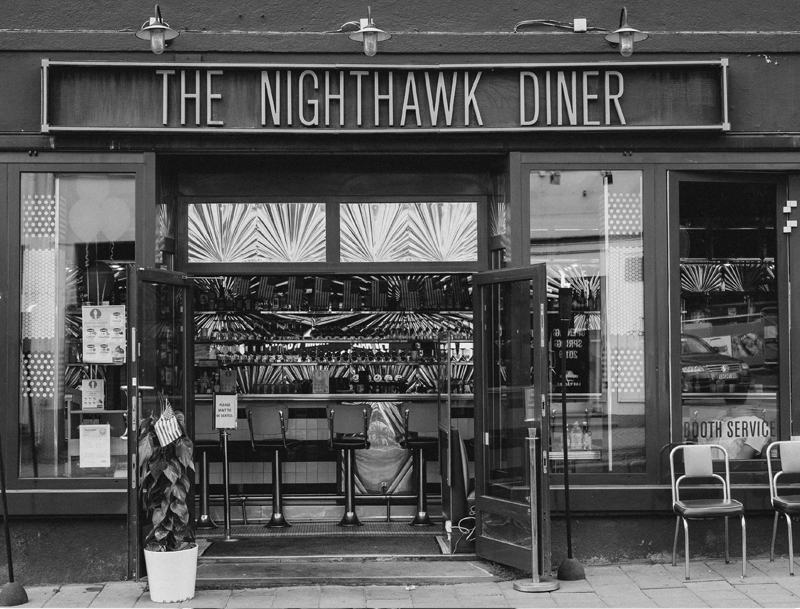 Lets eat & drink
All day breakfast selection
THE NIGHTHAWK BREAKFAST BRUNCH
Two eggs just how you like 'em, bacon, sausage, refried beans or chili, Fries or hash browns and toast. Wanna add a pancake with that? No problem. We'll even throw a syrup + 45 (g, e, so, su, o)
Your choose how we make 'em, served with bacon or sausage. (g, e, so, su)
WITH MAPLE SYRUP, EH? - PANCAKES!
The best thing to come out of America northern neighbour. Ok, maybe it's a tie with hockey. (g, m, e, so)
BLUEBERRY OR CHOCOLATE PANCAKES
Stop drooling and order them already. You know they are delish. (g, m, e, so) Wanna add jam? +15 Bacon or ham? +35
Breakfast served until 3 p.m.
Add smoked salmon (f), spinach, red onions and capers for +69 Add Avocado +35 (g, e, so, su, m)
Greek yogurt topped with muesli, nuts, acacia honey, and seasonal fruits. (n, m, g)
Two poached eggs on an English muffin with smoked salmon, hollandaise & fries. Get your Norwegian on! (m, g, e, so, f
Two poached eggs sittin' on ham, bacon, a toasted English muffin and then covered in Hollandaise sauce. Fries included. (m, g, e, so) Give it a BBQ - Boost by trading in for melt-in-yo-mouth Pulled Pork. +30
Omelettes served until 3 p.m.
A plain omelette served with salad and toast
Yes we did! We dedicated a whole page just for the omelettes. Cause we want you to have that energy that you need to set you on the right track every day. A FLUFFY PLAIN OMELETTE BASE SEVERED WITH SALAD AND A TOASTY TOAST WITH A GOOD OLD BUTTER. _119 (g, m, e, so) Then let's start the fun, with pimping up your omelette and create a little gourmet magic for yourself.
Salads
Our own twist of a fresh and delicious spiced Chicken salad. Served with all the good essentials. Topped of with fresh Italian parmesan cheese. (g, e, so, m, su) Add Bacon +35 Add Feta +35
A little Mediterranean love in the house, with our fresh Greek salad served with feta, onions and toast. (g, e, so, m, f)
THE BIG HAM AND CHEDDAR SALAD
One of our Chef's favourite combo's. A nice healthy portion served with our home-made vinaigrette. (g, e, so, m, su)
Let's mix it up with the tasty sea life of shrimps and the landscape harvest of a mixed salad greens. Infused with some fresh Chilli and spices. (g, e, so, m, su, ms)
The Nighthawk pre-game selection
THE COLLIFLOWER WITH BACON AND MUSHROOM SAUCE
THE BROCCOLI BROTHER IN LAW WITH A CHEESE SAUCE
Both are oven gratinated to perfection, accompanied with bread. (su, m) Both options can be made vegetarian.
Homemade, served with sour cream & tortilla chips. (so, m)
VEGETARIAN CHILI CON CARNE (SPICY)
Flavourful, spicy and filled with veggies. We even added sweet potatoes to make it that little extra hearty taste. A vegetarian option that will surprise even the carnivorous eater. Served with sour cream so make sure to tell your waiter/waitress if you want to skip it. (so, m)
THE NIGHTHAWK BUTTER SHRIMPS (SPICY)
A little tasty dish of the sea, with butter infused shrimps to help you get the feast and get your taste buds going. Served with a side of garlic mayo. (ms, s)
BATTERED CHICKEN WINGS AND HOMEMADE SALSA
Accompanied with a little sour cream. (so, c, su, m)
An introduction to Mexico. Some tortilla chips, smothered in cheese, topped off with the toro-trio (salsa roja, røme and guacamole). You'll be channelling Cheech in no time. (m, mu) Kick it up a notch with refried beans or chili con carne + 35
Melted cheese, salsa and fried beans all wrapped up in a tortilla and smuggled over the border before the wall goes up. After that, we'll go under... Que bueno! (g, e, so, m, su, c) Choice of filling with Chicken, Chilli con Carne or Beef.
CHILLI-CHEESE-PULLED-PORK-FRIES
'Nuff said. And don't worry, your server is CPR-trained. (m, mu, c, f, su)
The Nighthawk pre-game selection
It rocks! Smoked and braised with a mustard hot sauce, coleslaw and leafy greens. You cannot go wrong with this baby. (g, so, c, f, mu, su)
THE OLD SCHOOL QUESADILLA
Contains cheese, roja, onion and mixed vegetables. (g, e, so, m, su, c) Add Chicken +52 Add Beef +65 Add Sour Cream +35 Add Guacamole +35
THE LOKKA CHEESE-STEAK SANDWICH
Thinly sliced beef, marinated in GB's India Red, pan-fried with red onions mixed peppers, interwoven with melted cheese and put to bed in a garlic-mayo-laced hoagie. A Philly experiment done løkka style. (g, e, so, m)
Mac and cheese is back and all grown up! A down-home full-sized portion of our creamy mac & cheese, laced with a toasted oh-so-cheesy panco-crumb. (m, g) Add Pulled Pork +65 Add Chicken sausage +45
OLD SCHOOL FRIED CHICKEN PLATE
Lets Drum it up for the fried chicken. It's crispy and yummy with an American southern style spice. Served with a healthy portion of fries. (so, m , mu, su)
A grilled veggie sandwich with mixed greens, feta, guacamole and ranch dressing. Not environmentally - friendly enough? (m, g, e, so) Swap the ranch for hummus and bring in the gluten-free bread to go all-out vegan +35
Our delicious club-sandwich with chicken, bacon, chip-mayo, roasted pepper, tomato and lollo salad. (g, e, so, su, m) Gluten-free bread +35
The diner grill plates
A FULL RACK OF RIBS WITH HOMEMADE PULLED PORK
The meats are succulent and juicy. Served with a corn in cob and our homemade coleslaw. (so, c, f, e, su, g)
A classic Diner Style dish. An off the grill, juicy 250g New York Strip (Tenderloin) topped off with a herb infused shrimp. Served with seasonal vegetables and united with a flavoursome garlic butter sauce. (so, m, mu, su, ms)
THE CLASSIC RIB-EYE STEAK
With seasonal vegetables. Garlic butter sauce. (so, m, mu, su)
Thinly sliced Rib-eye steak Roasted potatoes and mix vegetables. Served with a red wine Ragu. (so, m, mu, su)
A carnivore's favourite past time. Between 500g to 600g of pure joy. Enjoy the two cuts attached. Then we recommend to dig into nibbling that T-boneeee, but you do as you see fit. Served with mix vegetables. (so, m, mu, su)
THE GRILLED CHICKEN GREEK STYLE
Two slices of flame grilled chicken, marinated with Greek spices. Served with a side of Greek salad. United with a delicious homemade Tzatziki sauce. (so, m, mu, su)
The diner burger selections
Pulled pork, cheddar, coleslaw and BBQ sauce. (g, m, e, c, su, so)
Chorizo, cheddar and tapenade. (g, m, mu, su)
An over easy egg, tapenade and cheddar. (g, m)
THE ULTIMATE DOUBLE DECKER
Bacon, cheddar, mushrooms and chipotle mayo. (g, e, so, m, mu, su)
Cheddar, Tapenade, Tzatziki, paprika and squash. (g, m, su)
Get ready: our juicy burger smothered in melted cheddar and topped with smoked bacon and chipotle-mayo. You can close your mouth now. (g, e, so, m, mu, su)
THE GRILLED CHICKEN BURGER
First, we take chicken breast and we, well, grill it. Bet you didn't see that coming... With some Cajun seasoning and chipotle mayo. (g, e, mu, m)
Our homemade falafel patty on a bun with lettuce, tomato, red onion, pickles and tapenade. (g, e, so, m, su) Or vegan it up with gluten-free bread and humus +35
Sidekicks
Chipotle-mayo (so, e, mu)
Green side salad (su, mu)
Oven roasted potatoes (so)
Mixed grilled veggies (so)
Mixed grilled veggies (so)
Side of Homemade Ragu (so)
Alcoholic beverages
BROOKLYN DEFENDER IPA (5%)
CPT LAWRENCE HOP COMMANDER (6,5%)
CPT LAWRENCE KOLSCH (4,8%)
BROOKLYN BLACK CHOCOLATE STOUT (10%)
Argentina, Chardonnay (12,0%)
Argentina, Chardonnay (12,0%)
Argentina, Malbec (13,5%)
Argentina, Malbec (13,5%)
GLASS OF PROSECCO VIGNANA EXTRA DRY
BOTTLE OF PROSECCO VIGNANA EXTRA DRY
Milkshakes
GLASS OF PROSECCO VIGNANA EXTRA DRY
Beverages
Pepsi / Pepsi Max / 7 up / Solo / Farris Natural
SMALL SQUEEZED ORANGE JUICE
BIG SQUEEZED ORANGE JUICE
SMALL ORGANIC UNFILTERED APPLE JUICE
BIG ORGANIC UNFILTERED APPLE JUICE
HOT BOTTOMLESS COFFEE/HOT TEA
THE BOSTON COOLER - GINGER ALE
NON-ALCOHOLIC Brooklyn Special Effects
Cocktails
Vodka, Tomato juice, Worcestershire sauce, celery, salt, black pepper and lime juice
Tequila, Cointreau, lime juice. And a dash of simple syrup
Rum, lime, simple syrup and mint
Prosecco and Orange juice
Vodka, ginger beer and lime
Gin, Dry Vermouth, olives and a lemon twist
Whisky, triple sec, lemon juice, egg white and topped off with angostura bitters
Gin, tonic and fresh lime
Rum, simple syrup and lime juice
Vodka, Malibu, orange juice and lime
Seilduksgata 15A
0553 Oslo
Restaurant Manager
NICOLAI +47 40854482